Highwood Contoured Vintage Saddles Reliced 11,2mm - 0.441 inch Set van 6
Highwood Contoured Vintage Saddles for Fender USA, Mexican Deluxe or Made in Mexico Classics (50's, 60's, 70's) Stratocasters.
More information
Description
Highwood Contoured Vintage Saddles Set. HG 11,20.
Saddle width: 0.441 inch / 11,20mm
String Spread: 2 7/32 inch / 56.33mm
These saddels will fit most Fender American Vintage Tremolo and hardtail bridges as well als most Mexican Deluxe and Made In Mexico Classics.
Not sure if the saddels will fit? Measure the width of your current saddles and compare the measurent to the table below: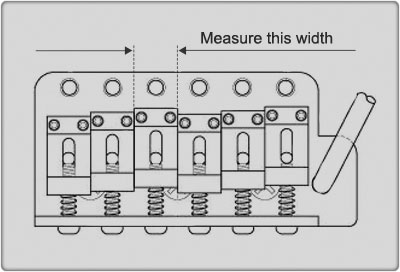 Products specifications
Products specifications
General
Specifications
| | |
| --- | --- |
| Brand | Highwood Saddles |
| Color | Chrome |
| Bridge type | Saddles |
Brand
About
Highwood Guitar Parts
Every strat player experienced the feeling of intonation screws sticking out above the saddles and into the palm of your hand. Highwood Saddles came up with a brilliant solution that is both simple and elegant: the Highwood Contoured Saddle. The contour in these vintage strat saddles solves the problem of the intonation screws sticking out. The Highwood Contoured Vintage Saddles are made out of the same steel Fender used in the fifties.
Highwood saddles are available in three different string spreads. Measure the current saddles on your strat before ordering.